All our artworks are handmade and each one is unique.
Please contact us before placing an order or click on the button "Product Inquiry" specifying Size, Quality and your favorite customization.
Thank you.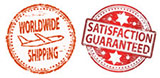 Our policy is 100% Satisfaction Guaranteed and we offer express delivery worldwide.
Please use the CART to calculate the shipping costs for your country.
Quan Yin Thangka
Guanyin is portrayed in this thangka painting as a beautiful young woman posing in her traditional reclined position, donned in a flowing robe and wearing royal jewels.
The crown is decorated with the image of Amitabha Buddha. Near her right hand is depicted a jar full of pure water and the left hand holds a small willow branch.
Guanyin or Kuan Yin, in Chinese Guanshiyin 觀音菩薩 means "She who hears/perceive the cry of the world". She is the goddess of mercy in Taoism, and Bodhisattva of compassion and forgiveness.
Quan Yin, according to ancient Chinese scriptures, was the mother goddess of China.
She became so popular to be adopted into the Buddhist pantheon and today is one of the more revered Bodhisattva in Mahayana Buddhism.
Due to the popularity of Quan Yin all around Asia, she is known by many names. It is pronounced Gwun Yam or Gun Yam in Cantonese. In Japan, Guanyin is known as Senju Kannon (観音).
In Tibetan the name is Chenrezig
Product Enquiry
Help Nepal
Our Art School is hosting several young students coming from remote villages of Nepal and talented artists affected by the devastating earthquake in 2015.
We also contribute to the restoration of our village and other humanitarian projects by supporting our local NGO. If you want to volunteer in Changunarayan please contact Kay Garnay for Nepal.
Social