All our artworks are handmade and each one is unique.
Please contact us before placing an order or click on the button "Product Inquiry" specifying Size, Quality and your favorite customization.
Thank you.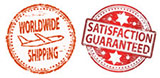 Our policy is 100% Satisfaction Guaranteed and we offer express delivery worldwide.
Please use the CART to calculate the shipping costs for your country.
Triple Yin-Yang Mandala
The Symbol of the triple Yin Yang represents the trinity of Buddhism, also known as the three jewels: Buddha, Dharma and Sangha.
According to the Buddhist doctrine the three jewels are the answers to overcome the "three poisons": ignorance, desire and anger, well described in the Wheel of Life (read more).
This beautiful thangka painting features the triple Yin Yang symbol in the center of the Mandala surrounded by the sacred mantra "Om Mani Padme Hum" in a combination of two different colors.
Product Enquiry
Help Nepal
Our Art School is hosting several young students coming from remote villages of Nepal and talented artists affected by the devastating earthquake in 2015.
We also contribute to the restoration of our village and other humanitarian projects by supporting our local NGO. If you want to volunteer in Changunarayan please contact Kay Garnay for Nepal.
Social