About Us
Namaste.
Our art school hosts a team of artists specialized in Tibetan Thangka paintings, Newari Paubha, Buddhist and Hindu Mandalas and traditional Himalayan masks. Guiding our mission is the belief that art plays an important social role, especially here in Nepal, and traditional ancient arts must be preserved. By opening our school and shop to the internet we want to promote and share what we love to teach and practice.

Thank you to

Crystal

for this video (shot before the Earthquakes of 2015).
Our Talented Artists and Students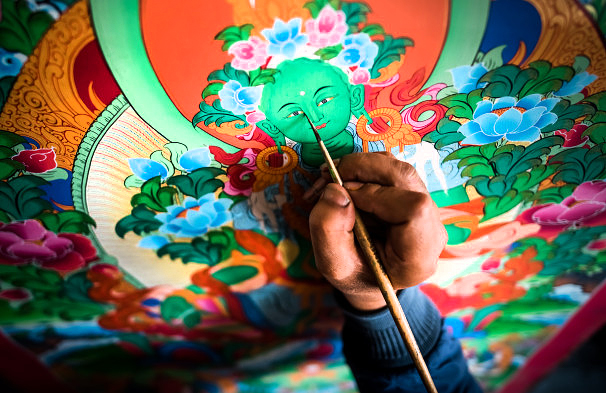 After the earthquakes of April 2015 our school was severely damaged and many artists lost their houses. In order to help our community we decided to co-fund a local NGO (more info at kaygarnay.org) and invited several young and talented women to join our team of artists, giving them the opportunity to contribute supporting their families. This was possible also because of the success of this website and the contribution and fondness of many.
The Teachers and Master Artists
A thangka painter is considered to be a Master only after five years of constant practice. The youngest master artist at Sunapati Thangka School have been practicing this art for more than ten years and we work with some of the best thangka painters in the world having more than 40 years of experience.
We accept commissions of custom paintings and personalized designed thangkas, mandalas and masks according to our clients needs and taste. We guarantee 100% satisfaction and because we don't use third parties re-sellers, we can offer the best prices online according to the different qualities. Our artworks are authentic and original decorative elements for living spaces, meditation rooms and yoga studios.