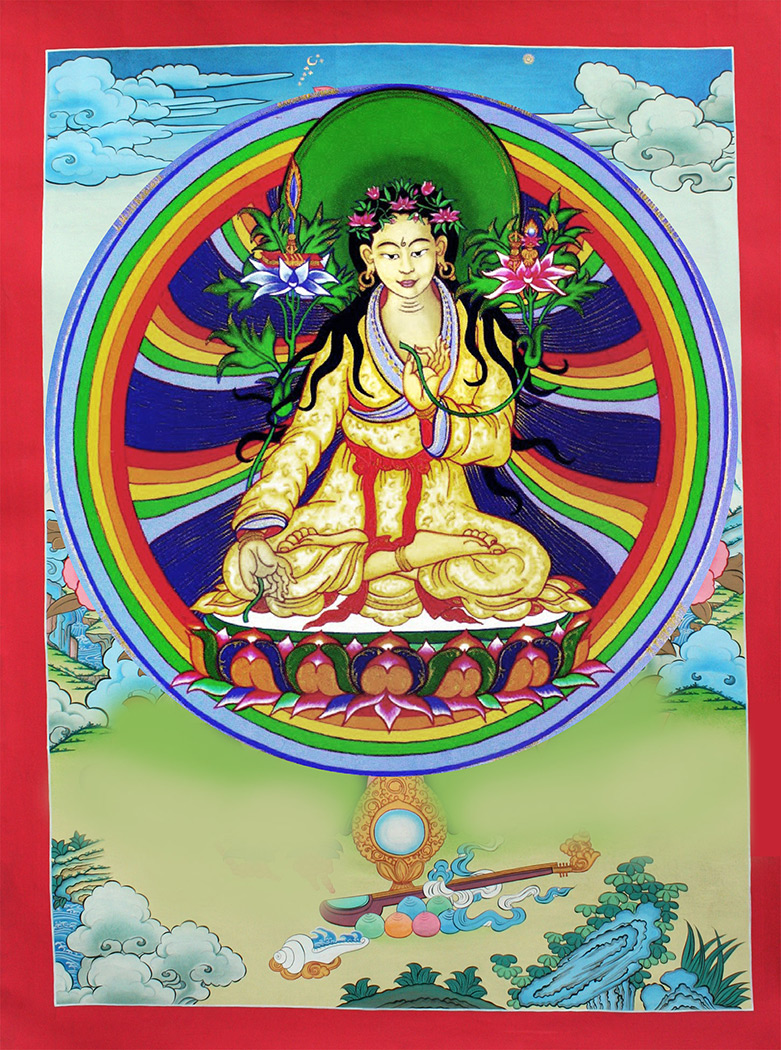 Yutog Yontan Gonpo
Yutog Yontan Gonpo the Younger is the father of traditional Tibetan medicine.
This famous Tibetan lama lived in the 12th Century and he is the founder of the Yuthok Nyingthig tantric practice including rituals of enhancement of medical powers, Dzogchen and four kind of Guru Yoga.
This practice has been transmitted in an unbroken lineage of different generations of Tibetan doctors and practitioners.
Yutog Yontan Gonpo is also the author of the most important text of Tibetan Medicine: the Four Tantras.
Yutog Yontan Gonpo the Younger is represented in thangka paintings as a peaceful and joyful lama.
His right arm is placed on his knee and his right hand holds a stem of a blue lotus flower supporting a sword and a book. The left hand is placed at the heart and holds the stem of a pink lotus supporting a gold vajra and vase decorated with precious jewels containing a medicine.
He is usually portrayed with long hair adorned with flower blossoms and wearing a robe, typical of a layman, tied with a red sash.
A green aureola is depicted around his head and his body is surrounded by a beautiful rainbow colored circle.
Notice: we are in the process of painting this thangka.
The image displayed is just a sketch and we will upload the picture of the artwork as soon as it is ready.