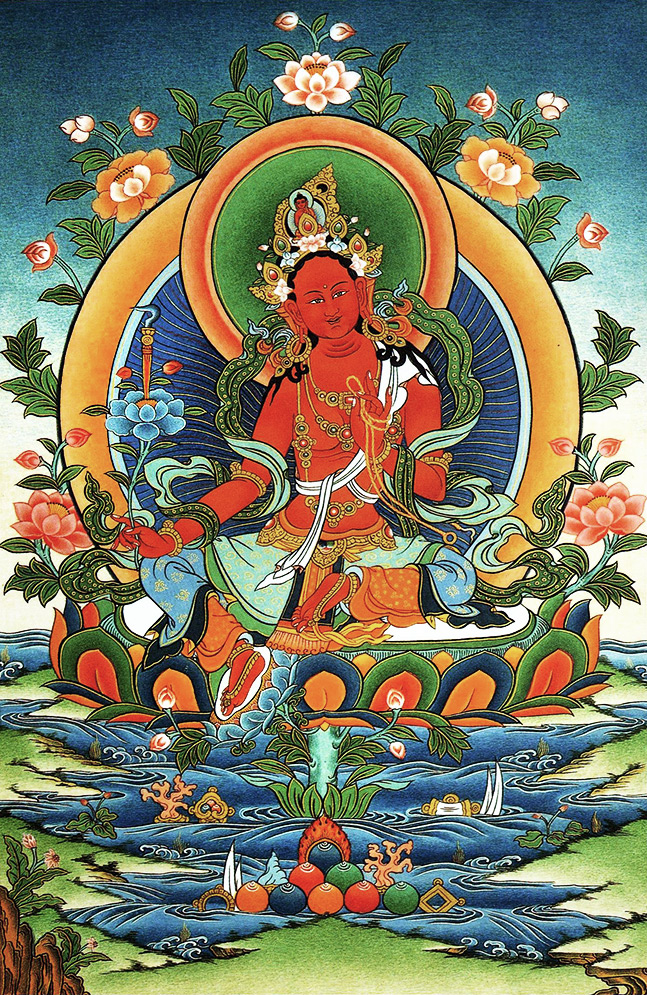 Red Tara
In this thangka painting Red Tara is depicted in her peaceful manifestation.
She is seated with the right leg slightly extended like the most common representations of Green Tara.
The right hand is extended across the knee holding the stem of a blue utpala flower with a hook on top of it. The left hand is positioned in front of the heart holding a golden lasso.
Red Tara is the manifestation of Tara expression of awareness of all phenomena. In Vajrayana Buddhism the practice of Red Tara is based on the ritual called the Mandala of wish-fulfilling essence that focuses on turning material desires into compassion and love.
The ritual includes yoga, healing practices and teachings on the nature of mind.
The Red Tara empowerment ritual was originated by Amitabha Buddha and passed to Avalokiteshvara, then to an emanation of Tara and the famous Indian master Nagarjuna that transmitted this teaching to Padmasambhava.
Guru Rinpoche left this knowledge to his consort Yeshe Tsogyal, and asked her to hide it as a treasure to be discovered at a later time, when it would produce the most benefit.
The teaching was discovered by lama Apong Terton, who lived in last century. Before his death the lama transmitted the ritual to a monk that promised to reveal it to the reincarnation of Apong Terton, Sakya Trizin.
The monk also initiated Chagdud Tulku Rinpoche that in 1980 started teaching the practice widely in the United States.